MVP: Chase Ortiz
--Although he was for years the Frogs' lesser touted defensive end, in '07 Chase Ortiz anchored TCU's defense in what was supposed to be the year of Tommy Blake and BCS busting, but what became instead a scramble merely for bowl eligibility. Ortiz consistently pressured offenses despite constant double teams, tallying 9 sacks and over 16 tackles-for-loss; he is the only player to make the first-team all-MWC squad in '05, '06' and '07. Perhaps more importantly, he made room to grow for the litany of new starters and second stringers who played in tandem to his right; he delivered clutch plays from the season's opener to its finale, securing the Frogs' third straight bowl victory-- three wins among so many in which he has had much to do. No one player
among TCU's graduating seniors will be missed more in '08.
Offensive Players of the Year: Blake Schlueter, Ervin Dickerson
--
TCU's offense largely returned veterans to the field in 2007, except at quarterback. Two of these vets performed unfailingly
well for that greenie-- center Schlueter and wide-out Dickerson-- and eased the transition from Ballard's era to Dalton's. Schlueter's leadership at the line was neither new nor unexpected; he is the most underrated center in college football today. Dickerson emerged largely from the background as Dalton's
top target in '07, his final year at TCU.
Defensive Players of the Year: David Hawthorne, Jason Phillips
-- TCU's defense features an embarrassment of riches; isolating one or two of them for this feature is almost silly. However, the Frogs' starting linebackers have been so consistent, and so good, that they warrant mention here. Phillips 87 tackles led the team; Hawthorne had 84-- while splitting time with another defensive standout, Robert Henson (who had 66 tackles himself!).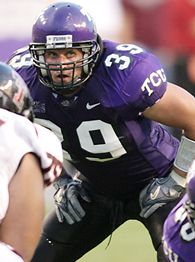 Special Teams Player of the Year: Brian Bonner
--this senior not only had the team's third-highest tackle total, but for the second year in a row, Brian Bonner was the MWC's most dangerous punt returner. He captained the defense, and dominated special teams.
Outstanding Freshman: Andy Dalton
--Dalton proved durable, capable, and when his backfield performed adequately, spectacular. The freshman showed his feet in the second half of the season.
Most Excited to See in '08: Jimmy Young, Stephen Hodge, Robert Henson, Daryl Washington
Photos:
Keith Robinson